Chris Kappmeyer's Unique Listing Process WORKS! Here are just a few examples...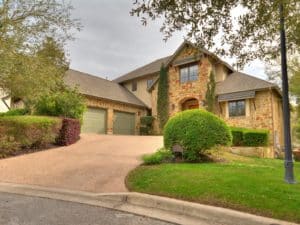 SOLD! BARTON CREEK - $1,100,100 -
UNDER CONTRACT IN 2 DAYS -
$21,100 ABOVE ASKING
SOLD! BARTON CREEK - $970,000 -
UNDER CONTRACT IN 5 DAYS - $10,000 ABOVE ASKING

SOLD! WESTLAKE AREA - $1,272,500 -
UNDER CONTRACT IN 1 DAY - $14,500 ABOVE ASKING
Chris Kappmeyer's Clients LOVE His Home Listing Process!
The Browne Family
"We worked with Chris both to sell our home in Austin and to purchase a home. From initial listing appointment to the completion of our move, Chris was a delight to work with. He has comprehensive knowledge of the local market – including most of the areas in which we were searching. His listing process is calculated to get the best price for a sale, and aligned well with the way we wanted to do business. His team executed the plan well and kept us informed throughout. As we went through negotiation, Chris worked to ensure our needs were addressed while also helping the buyers reach their best deal. In purchasing our new home, Chris made an aggressive offer that helped us meet our transition timelines while also getting us a good price. He was an invaluable asset during our move, as he seemed to know a good vendor to meet our specific needs and timing. Chris says he wants to be our realtor for life. We don't anticipate moving again, but would absolutely work with Chris again if we do!"
The Guzman Family
"My family has used Chris several times in selling our residential properties. We are particularly impressed with his unique listing process in which he paid for both an appraisal and an extensive marketing strategy to help us maximize the value of our home. With Chris's 28+ years, his unique skills and Process enabled us to make tens of thousands more and deliver top dollar on our Barton Creek home."
The Miller Family
"Chris and his team were consummate professionals and experts in the listing process. Many listing agents are "hobby agents" looking to "post and pray" to MLS. NOT so with Chris and his team. They walked through a very detailed process that involved us pre-inspecting, pre-appraising, and then investing in fixing only those items that would impact our property's marketability (and they weren't exactly the ones we'd have expected)! We thought the listing price Chris set was aggressive, but we turned up multiple offers and probably set a per-square-foot record in our neighborhood. Unlike other agents looking to list our home in our price range, Chris would not compromise on a full listing commission, but we went with him anyway believing that his meticulous process would net us more from the sale, and it easily did. I cannot recommend Chris highly enough"
Rick and Henri Coleman
"Chris has been a dear friend for several decades and recently helped us sell our Westlake house and purchase a brand new Barton Creek home. His excellent negotiating skills and Unique Process truly enhanced the value to where we were able to maximize our returns on both transactions. After our closing, he continues to work hard to improve our our home ownership experience. His Process truly leads to Performance."
Jim and Nancy Clark
"Our experience with Chris was a little different than most. We already had a potential buyer. Chris and his team were there to negotiate a fair price, walk both parties through the myriad of paperwork and regulations required to sell a property.
Through phone calls, emails and documents that needed to be signed, not a stone was left unturned or a question unanswered.
When it was time for closing, it was more like a gathering of friends than a financial transaction. Everything was prepared and the process could not have been smoother.
Chris and his team are the consummate professionals. They don't just make idle promises and start throwing numbers around, their research is thorough and each step is planned with great care.
Chris and his family have been friends and neighbors for many years and it was a pleasure to have someone to be able to trust with such a personal transaction as selling your home."
Wayne and Debra Schrader
"Chris's unique process and 25 years of experience in real estate enabled us to both maximize the sale of our home in a short amount of time and purchase the home of our dreams in Barton Creek. Chris is a consummate professional and has become a trusted friend."
Kelly Zauber
"This guy is a class act and an awesome real estate agent. He seems to have a passion for what he does, which shows in his work. You know the old saying, "no job too big, no job too small?" Well, it seems Chris lives by that philosophy. Although he sells some very large homes, ours was very modest. He still showed intense interest and treated us as though it was a multi-million dollar project. If you're looking for an agent that cares, you should do yourself a favor from the beginning and give Chris a shot. Oh yeah, I almost forgot, he was the seller's agent and we were the buyer's. So he represented the "other guys" in the transaction. So for me to take the time to write this note speaks volumes about him as an agent and a person. Chris is a true class act through and through."
Ann & Peter Vancorenland-Thijs
"This review is to give our highest recommendation to Chris Kappmeyer as a realtor. Chris has been our realtor for the past three years in 3-4 real estate transactions. He has saved us from one giant mistake and has introduced us to real estate investing, from which we are now happily earning a small extra income.
Two times, Chris acted as our buyer's agent. In 2013, we were looking for a more spacious home in the west/southwest Austin area. We had scoured Zillow and MLS listings for a couple of months, went to open houses, and came up with NOTHING. We had heard good things about Chris and met with him over lunch where he explained his buying and selling "processes". These processes are well thought out multi-step programs, that have really worked to our benefit in buying and selling houses. Give Chris some time to explain the process, and you can benefit too.
The first house we found was great in all aspects. Chris went out of his way to look for any development plans for this property, and in the end found that there were early plans to build a wastewater treatment plant right behind the house. It would look like our infinity pool was spilling over in a wastewater retention pond… Now, three years later, the wastewater treatment plant has been built, and we are forever grateful to Chris for diligently working to find answers to our questions, talking to his contacts at the City of Austin and steering us away from this disaster.
After house-hunting for so long, we weren't optimistic about finding another house anytime soon. But in December 2013, due to his automated MLS listing emails, we were the first ones to check out a new listing in our preferred neighborhood. Chris was out of town, but he managed to put an offer in that same weekend. Two other offers came in that weekend, but due to Chris unrelenting attention, and our excellent position due to his buyer's process (pre-qualified and pre-approved) the seller went under contract with us. Almost three years later, we're still living in our dream home, which turned out to be much better than the first house anyway.
Chris also acted twice as our seller's agent, and in the process taught us quite a bit about real estate investing. Chris' multi-step process of selling a house played out completely as intended and really paid off. For the first house, we ended up with a multiple offer situation, and sold the house for $25K more than it was listed, which set a precedent for the whole neighborhood. A second home was in a market not doing as well as Austin's market, but Chris helped us out here as well and we got a full-price offer in less than a month. His knowledge and experience, and his willingness to answer our many questions, made us feel confident in our choices and we now have a nice ~7% return on investments.
Through all of our real estate dealings, Chris has shown incredible professionalism, patience and superior knowledge of the real estate market. He has built a great team that helps him with different aspects, but he will always spend his own time to answer our questions. And yes, we're both detail-oriented people, so we have had MANY questions.
We have dealt with two other real estate agents in the past, and have always felt they made way too much money of off us for what they were actually doing. Not Chris. Much to his credit, even our two buyers seemed much impressed with our realtor.
We have recommended Chris to numerous friends and colleagues who have all fared well with him as their realtor, and we're glad to recommend him to you as well."
The Ledden Family
"Our family recently relocated from Australia to Austin and, not knowing the market here, were fortunate to be referred to Chris. Through his Value-Added Process, Chris negotiated $10,000 off our first home and then, through his decades of knowledge in home construction, we got the home of our dreams for $30,000 less than the builder's requested price. We have and will continue referring our friends to Chris and his skilled team."
Don't Just Sell Your Home. Give Chris 20 Min. To Show You How His 7 Step Selling Process Will Maximize Your Sale.
[ninja_form id="7″]